OLD MELBOURNE CEMETERY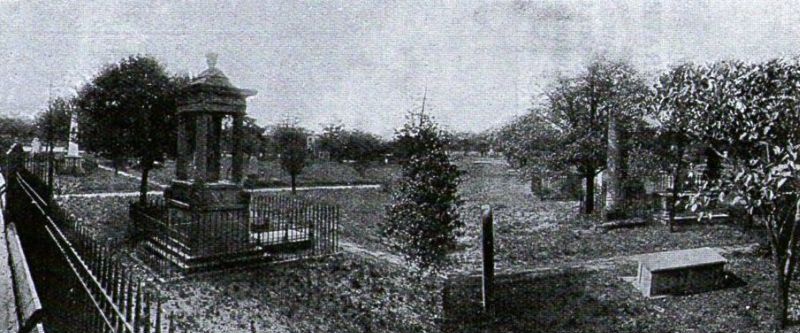 The Old Melbourne Cemetery was consecrated on 18 April 1838 by the Anglican Bishop of Australia, William Grant Broughton. It was used by all religious denominations in Melbourne until it was closed for further burials in 1853. From that time most burials were made in the Melbourne General Cemetery in Carlton. However some burials were later allowed in the Old Melbourne Cemetery, mainly by families who had previously purchased burial sites.
About 1877 the adjoining Victoria Market took over northern sections of the cemetery followed by a complete takeover of all remaining sections about 1917. One of the leading opponents to this takeover was Isaac Selby. Though unsuccessful in saving the cemetery, Selby recorded much of the history of the cemetery and in 1924 published "The Old Pioneers' Memorial History of Melbourne" in which he recorded the location of all the gravestones and memorials in the Old Melbourne Cemetery. The surname index and plan of the cemetery can be viewed by following the following links:
SELBY'S INDEX PAGE 1
About 1865 all of the burial records for the old Melbourne Cemetery mysteriously disappeared. Various theories have emerged as to what happened to them but no definite evidence can be found. In the following years the cemetery was partially reopened for burials by those who had previously paid for grave sites. Those who claimed such a right were asked to provide some evidence of their ownership which resulted in some records of the early days of the cemetery being collected and preserved. One such document was the receipt shown below. George Augustus Robinson, Chief Protector of the Aborigines in the Port Phillip District, was able to prove that he had paid £3/10/- to purchase a grave site on 14 December 1849 measuring 14 feet by 8 feet in which his wife had been buried.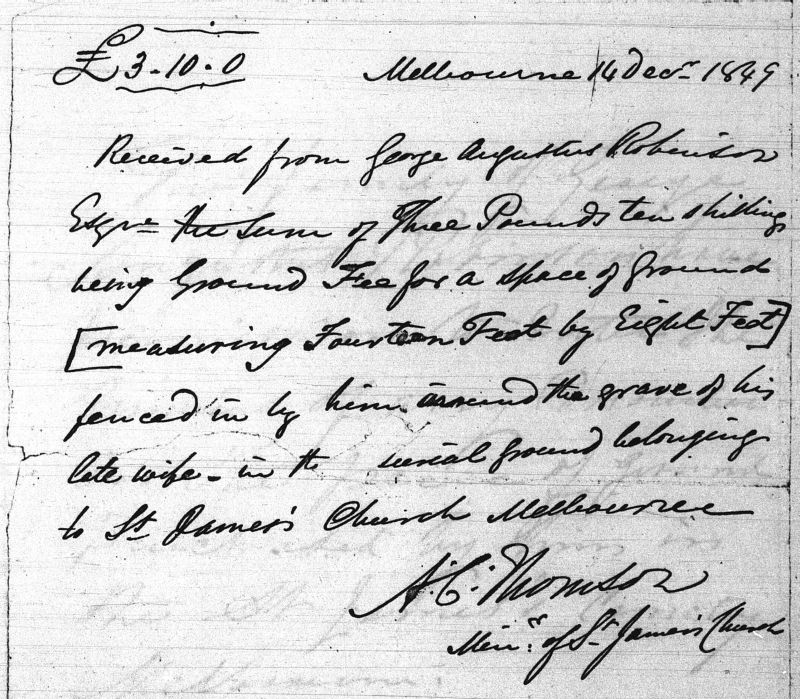 When the Queen Victoria Market took over the cemetery site most of the gravestones and monuments, together with their associated remains, were taken to a section of the Fawkner Cemetery. Where there was no gravestone over a grave no exhumation was made. Estimates have been made that the remains of between 5,000 and 10,000 people are still buried there, including many well known identities.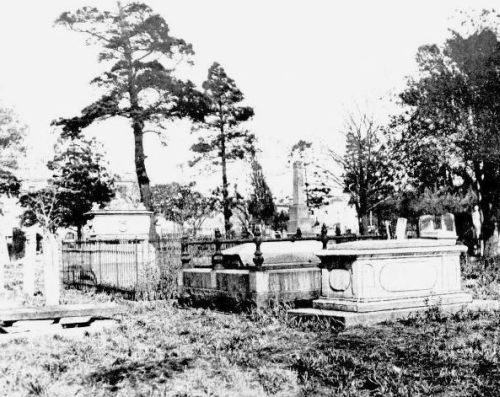 © Copyright 2016 by Alexander Romanov-Hughes. All rights reserved.
Home Page | Selby's Index Page 1